When Statoil researchers Kjell Einar Ellingsen and Lars Brenne found a disused kitchen in Statoil's Stavanger office, they thought it would make a perfect lab. Out went the cooking utensils, and in their place came tools, gadgets, garden hoses and parts from bathroom scales. The "Innovation Kitchen", is just a small part of Statoil's continuous work on technology.
"We can make a mess here, and toss ideas back and forth," Ellingsen says. "We'd like to develop new technology that could save the company 10 million, 100 million, maybe even 500 million kroner," Brenne adds.
On the steel kitchen worktop there are plastic tubes with nuts at each end. A miniature plastic windmill and a bicycle pump. And countless other gadgets. Almost anything can be used when testing a concept.
"We needed a "yes" place. A place where no-one says "No, that's impossible," Ellingsen says.
A TECHNOLOGY STRATEGY WITH MANY LAYERS
The yes-place—or as they have dubbed it—the "Innovation Kitchen", is just a small part of Statoil's continuous work on technology. Pretty much everything Statoil does, whether it relates to wind, oil, drilling or construction, is becoming more challenging and complicated.
"There is such a large potential for new and innovative solutions where we can make the most of synergies between the underground, drilling and construction," CTO Elisabeth Kvalheim with enthusiasm, as she explains the implications of the strategy.
To make the hunt for those solutions as targeted and productive as possible, Statoil has expanded its technology strategy—substantially different from earlier strategies, cross-disciplinary and high level. The goal is to find and develop sound projects, while working on reducing emissions.

"To make this happen we need to come up with radical innovations. Just think what it would mean if we could use artificial intelligence on all our seismic data, or avoid the need for drilling lateral wells with automated drilling or decarbonizing our natural gas at a much lower price?", says Kvalheim. 

Those questions remain to be answered. The new technology strategy will aim to answer many questions, and is a natural follow-up in the wake of both the new company strategy and the Climate Roadmap that were introduced earlier this year.
Many of the solutions that have paved the way for what Statoil is today have come out of kitchens, garages and maybe even while walking the dog. Those ideas will make it possible for Statoil to continue to produce energy in the best possible way, no matter whether it is oil, natural gas, wind or maybe something completely different. 
Cooking up ideas that could save millions

Innovation "chef" Ellingsen has previously developed many creative ideas in his own garage. Just like Theodore Rimspoke, the bicycle repairman in the popular Norwegian animation film, Pinchcliffe Grand Prix, he's happiest in the company of incurable optimists: people who have the courage to test weird and wonderful ideas in front of others, and who dare to fail—without having to go through long and complex processes to find out that an idea was unworkable.
"This is very early-stage research. We can try and fail here, and try again—but do it as cheaply as possible," Lars Brenne says.
He is enthusiastic about innovation and more than happy to demonstrate projects he thinks could work. To make his point, he places a Stirling heat engine on top of a cup filled with boiling water. It's basically a pedestal with a wheel on top, much like a wind turbine, and when heat from hot water in the cup meets the chill of from cold water poured from the top, air currents power the engine. After a few seconds, the wheel starts spinning rapidly.
"Imagine if we could use the heat engine principle to power the subsea gas compression modules at Åsgard," he says enthusiastically. He hopes that one day large subsea installations will be able to dispense with external power cables and, instead, harness the energy generated when cold seawater meets hot hydrocarbons.
It's a recipe that could potentially lead to significantly lower energy costs. Åsgard subsea compression alone has a power requirement of 26 MW, which quickly adds up in terms of costs.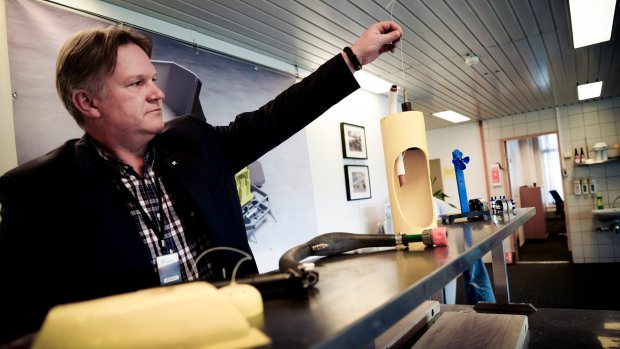 All manner of household gadgets can be used
Photo: Inger Johanne Stenberg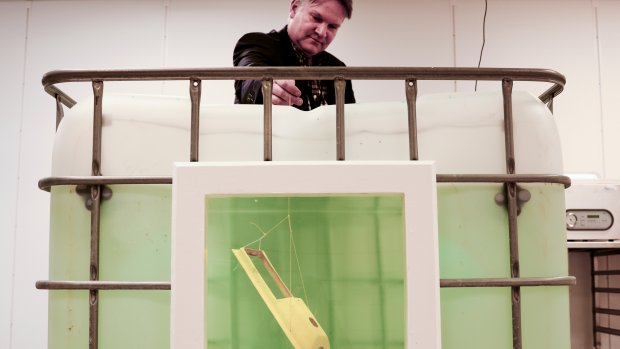 A simple water tank makes an ideal test facility
Photo: Inger Johanne Stenberg
All manner of household gadgets can be used
Photo: Inger Johanne Stenberg
A simple water tank makes an ideal test facility
Photo: Inger Johanne Stenberg
A strategy for innovation

Statoil's new strategy is characterised by a strong commitment to innovation and technology. Not only within traditional areas, but also to provide the company with more legs to stand on as times change. When the inventors asked management if they could be allowed to play at work to find workable solutions, they got just the answer they were hoping for. Go ahead!
"It's definitely the right time for this," Ellingsen says while demonstrating a small device that can help find loose screws using old bathroom scales.
"You just have to dare to ask the question: can we do this on our own, or do we need external help? And I think there's a lot we can do ourselves".
There aren't any chef's hats in the old kitchen any more, but water jugs and cutlery remain. The toolboxes from a garage are in place, and everything from vacuum cleaners, ultrasonic cleaners and electrical tape is in place.
Standing in the middle of the floor is a giant watertank with lights that keep changing colour. Kjell Einar submerges various yellow objects in the water, constantly searching for a breakthrough. Often it only takes a brief test in a small bath to see whether an idea is good or bad. Of hundreds of ideas that emerge, maybe only a handfull are expected to be workable.
Many bright minds from Statoil have already shown their interest in using the innovation kitchen for testing. Personnel from Marine Operations, Pipelaying, and Drilling and Well have seen the potential of a playroom like this. Projects that are further along in development are also welcome to the kitchen.
For instance, Lars Brenne has a rig under construction at Statoil's research centre, Rotvoll near Trondheim. It's scheduled for testing in the innovation kitchen, to find out how to achieve a more even flow of oil, gas and water in multi-phase pipelines—that is, pipelines that carry a mixture of all three from the wellheads.
Meanwhile, Kjell Einar Ellingsen is still working on the continued development of ideas that once came from late-night thinking and testing in his garage. However, he is sure there are other Statoil employees who have equally good ideas, and who are just looking for a sparring partner. Someone in an old kitchen, for example.

"The door is open here as long as there is room. And no idea is too silly. If you need a toilet roll and paper-clip to explain what you mean, then that's absolutely fine," Ellingsen says.
Statoil's five strategic directions covering oil and gas, reductions of carbon emissions, and renewable energy are:
Optimising production from existing and near field resources
Low carbon solutions for oil & gas
Discovering and developing frontier and deep water areas
Unlocking low recovery reservoirs
Developing renewable energy opportunities